Our goal is to give you the tools and confidence you need to improve your health and finances. Although we may receive compensation from our partner insurance companies, whom we will always identify, all opinions are our own. CoverRight Inc. and CoverRight Insurance Services Inc. (NPN: 19724057) are collectively referred to here as "CoverRight".
What are Medicare Advantage plans?
Medicare Advantage plans, also known as Part C, are a popular alternative to traditional Medicare. These plans are offered by private insurance companies and provide an all-in-one alternative to Medicare Parts A and B, often with added benefits such as dental and vision coverage. However, Medicare Advantage plans may not be the best choice for everyone. In this article, we will explore some of the reasons why Medicare Advantage plans could be bad for some beneficiaries.
On average the Medicare beneficiary has 43 options to choose from.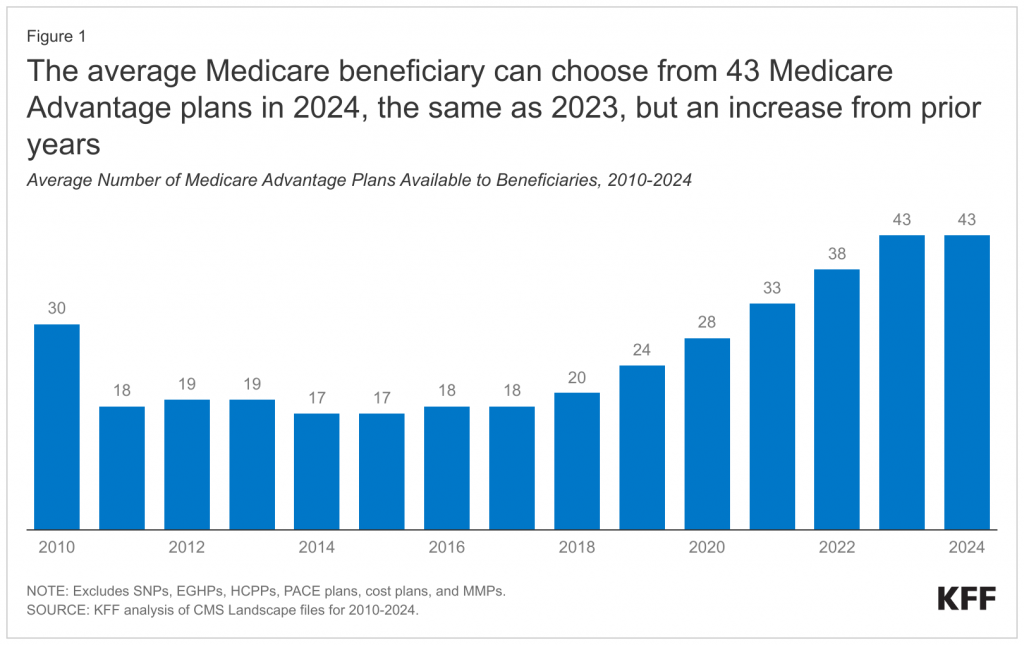 But with the proliferation of Medicare Advantage and wide ranges of choice, how do you identify what the worst Medicare Advantage plans are?
Common Traits of the Worst Medicare Advantage Plans
Strict Prior Authorization Rules
One common downside with Medicare Advantage plans is that they may require you to get prior authorization. Prior authorization is the process by which insurance companies require doctors to get approval before they can provide certain services or treatments to patients.
While prior authorizations is what allows Medicare Advantage plans to keep your overall day-to-day healthcare services costs low – they can also come at the detriment of some beneficiaries in certain instances.
In 2021, over 35 million prior authorization requests were submitted to carriers. This can create delays in receiving necessary medical care and can be frustrating for patients and healthcare providers alike.
Outlined below is a study by the Kaiser Family Foundation shows a review of major Medicare Advantage carriers and t he average number of authorization requests per carriers.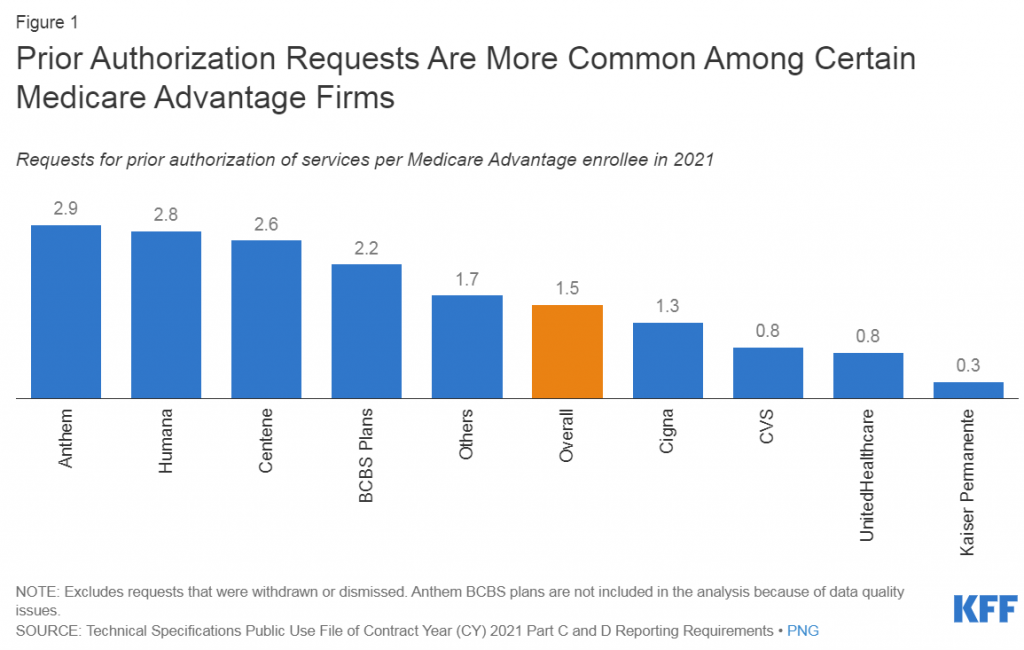 While a high number of prior authorizations by itself are no necessarily bad – this needs to be reviewed in conjunction with the number of denials (for example, if a carrier has a high number of prior authorization requests but vast majority are approved then it doesn't necessarily negatively impact you as a consumer).
Carriers do have the power to deny coverage if they assess that a certain service is not required – limiting the flexibility of doctors in treating their patients. The Kaiser Family Foundation found that:
Over 2 million prior authorization requests were fully or partially denied by Medicare Advantage insurers.
Just 11 percent of prior authorization denials were appealed.
The vast majority (82%) of appeals resulted in fully or partially overturning the initial prior authorization denial.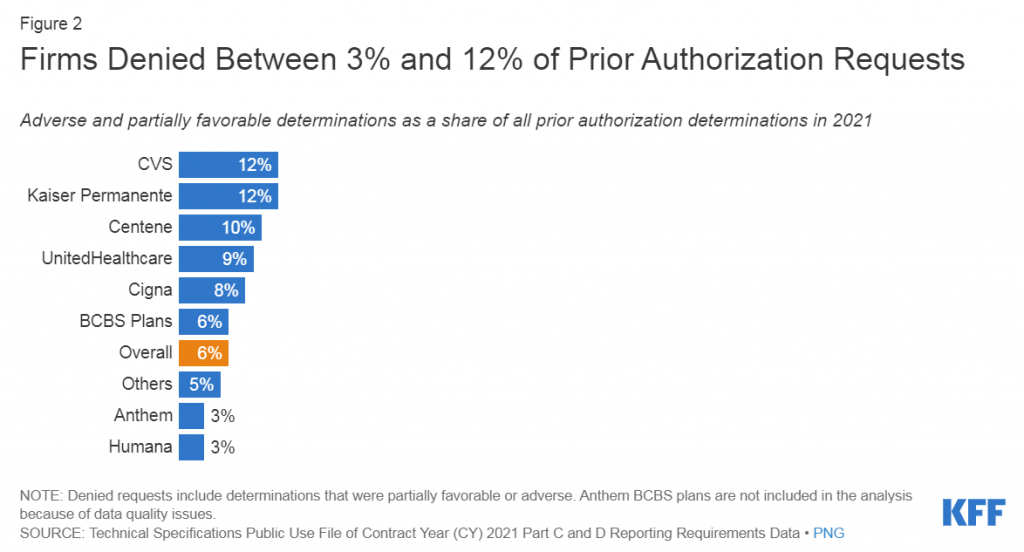 How to avoid issues with prior authorization?
Unfortunately, prior authorizations are a part of life when to comes to Medicare Advantage. Without this, Medicare Advantage plans would not be able to appropriately manage health claim costs and this would drive p the cost of care for everyone, including those that are healthy.
The best way to prepare is to be aware. Speak to your a licensed insurance agent or service that specializes in Medicare (like CoverRight) to understand the prior authorization rules of your plan before you enroll.
High Out of Pocket Expenses
Another issue with Medicare Advantage plans is the potential for high out-of-pocket expenses and maximum out-of-pocket limits. While these plans often have lower premiums than having a Medicare Supplement (Medigap) plan, they can come with higher copays and coinsurances and some may have Maximum Out of Pocket ('MOOP') limits that can reach up to $8,850 for in-network services and $13,300 dollars for in- and out-of-network services (if the plan covers out of network providers). This can leave beneficiaries with unexpected and potentially unaffordable medical bills.
How to avoid issues with out of pocket expenses?
You should always check that you are comfortable with the out of pocket obligations in your plan before making a final decision. In particular, you should review the costs associated with the care that you intend to receive from the plan (for example: are you healthy and except to just see your doctors for annual check ups or do you have a chronic condition that requires more specialist visits and lab tests?). Speak to your licensed insurance agent about these items before you enroll.
Plans with Questionable Provider Networks
People with traditional Medicare have access to any doctor or hospital that accepts Medicare, anywhere in the United States. That's the vast majority of doctors and virtually all hospitals.
In contrast, Medicare Advantage enrollees can access providers only through more limited provider networks. All Medicare Advantage plans are required to have such networks for doctors, hospitals, and other providers.
The worst available Medicare Advantage plans are ones that have questionable or narrow doctor networks. This could potentially be especially problematic for beneficiaries who live in rural areas or who require specialized care that may not be available within the network.
Provider participation in insurance carrier networks can vary greatly. A 2017 analysis found that Medicare Advantage networks included fewer than half (46%) of all Medicare physicians in a given county, on average. In addition, the Centers for Medicare and Medicaid Services (CMS), which administers Medicare Advantage plans, has also noted that some plans have not been in compliance in recent years with "network adequacy" standards.
How to avoid issues with prior authorization?
While a narrow network is not necessarily negative (it does allow some plans to better manage your care) – it's important to always check your doctors and any potential facilities you may use before enrolling. Some carriers are known for having a broader network than others, so you should always review these particularly if you intend to travel across states a lot.
Low CMS Star Ratings
Finally, Medicare Advantage plans often have lower quality ratings than traditional Medicare. The Centers for Medicare and Medicaid Services (CMS) rates Medicare Advantage plans on a five-star scale based on factors such as customer service, member experience, and healthcare quality.
In recent years, a number of Medicare Advantage plans have received three stars or less and there has been an overall decline in star ratings. This suggests that the Medicare Advantage plan may not be providing an adequate level of quality care than other plans.
In 2024, the average star rating among plans, weighted by enrollment, was 4.04 stars, down from 4.14 stars in 2023, according to CMS. 
For the 6 largest Medicare Advantage insurance carriers, the ratings were as follows:
Aetna
Centene
Cigna
Elevance (Anthem BCBS)
Humana
United
Healthcare
Highest rating
4.5
4.0
4.5
5.0
5.0
5.0
Lowest rating
2.5
2.0
3.0
2.5
3.0
3.0
Median rating
4.0
3.0
3.5
3.5
4.0
4.0
Total number of MA contracts
45
106
17
46
48
75
Medicare Advantage CMS Star Ratings: 6 Major Carriers
How to avoid issues with low-rated plans?
Most plans are provided a star ratings unless they are 'too new' to be rated by CMS as there is not enough historical data. When you are making a decision between two similar plans, this may be the deciding factor for you. For plans that have no star rating yet – look to review if the insurance carrier has other plans and what the average rating might be for those to get a sense of how good the carrier is overall.
What else do you need to look for?
While Medicare Advantage plans generally offer great solution for cost conscious consumers with low copays for day-to-day healthcare services such as primary care doctor visits (many plans have $0 copay for seeing your doctor) some expensive items and services have the same cost share as Original Medicare:
These include:
Durable Medical Equipment: Medical equipment is one of the most expensive items you can run into. Nearly every Medicare Advantage plan will have a cost share of 20% for most durable medical equipment. These costly items range from a CPAP or oxygen machine to wheelchairs and mobility devices.
Part B Drugs: Another high cost can be drugs administered in the doctor's office. These medications are typically injections or infusion drugs such as chemotherapy for cancer. Like DME, these costs will be 20% on nearly every Medicare Advantage program. Medicines filled at a pharmacy will be covered under Medicare Part D and your plan's prescription drug coverage.
Dialysis for End-Stage Renal Disease: ESRD requires dialysis treatment to keep the kidneys functioning. Those beneficiaries needing this treatment can also expect a 20% coinsurance until they reach their plan maximum out of pocket. This makes treatment costs very high and difficult to pay for.
What should I do if I want more comprehensive coverage?
If you are concerned about being stuck with a Medicare Advantage plan that might not suit your needs, you can always consider a Medicare Supplement ('or Medigap') plan provide the comprehensive or 'cadillac' coverage.
Medicare Supplement plans eliminate almost all the concerns and costs above. However, not everyone can enroll in or afford a Medigap Plan.
If you need to stay with a Medicare Advantage plan, pick your plan carefully and work with a licensed insurance agent that specializes in Medicare.
Conclusion
In conclusion, while Medicare Advantage plans can be a good choice for some beneficiaries, they may not be the best choice for everyone. Prior authorization, high out-of-pocket expenses and maximum out-of-pocket limits, narrow doctor networks, and low quality ratings are all potential drawbacks of these plans. Before enrolling in a Medicare Advantage plan, it is important for beneficiaries to carefully consider their healthcare needs and options, and to compare plans based on factors such as cost, coverage, and quality.
______________________________________________________________________
Frequently Asked Questions
What is the biggest disadvantage of Medicare Advantage?
The biggest disadvantage of Medicare Advantage plans is the potential limitation of providers you can see, which can limit your selection of physicians and medical facilities if you have certain conditions that require specialist care.
Why do people dislike Medicare Advantage plans?
People on Medicare Advantage may dislike these plans as they may be more restrictive on care due to network restrictions mentioned above as well as the potential need for prior authorizations before receiving care.
In addition there is a common misconception that a Medicare Advantage plan is free, and there are no copays when you use services. However, while many plans have $0 premiums, most individuals have to pay out-of-pocket copays and coinsurances when and as they use health services.
Can I drop my Medicare Advantage plan and go back to my Original Medicare?
You can switch from your Medicare Advantage plan to traditional Medicare during the Medicare Advantage Open Enrollment period or Annual Enrollment Period. Besides these two enrollment periods, you would need a qualifying situation and therefore a 'Special Enrollment Period' to drop the MA plan and return to Original Medicare.
What are the best Medicare Advantage plans?
There really isn't a best Medicare Advantage plan. This is because everyone has different needs. The plan that's the best for your friend may not fit your needs at all.